School Reopening date and date to commence academic work -GES
Ghana Education Service (GES) final updates on the reopening of schools, when academic work starts, and when My First Day At School should be organized. 
The final updates for teachers, parents, and students were contained in a press release copied to Ghanaeducation.org
According to the press release, schools officially open on Monday 18th January 2021.
The GES instructed that schools to use Monday, 18th January to tidy up the school environment and begin academic work on Tuesday, 19th January.
READ: Reopening of School: 12 new decisions by GES teachers and parents must know
The Management of GES further indicated that MY FIRST DAY AT SCHOOL will be observed nationwide on Tuesday, 19th January 2021.
It further assured parents of the safety of schools for effective teaching and learning.
"Students, parents, teachers, and the general public are assured that the schools have been made safe for effective teaching and learning and therefore should not panic. Let us get back to school for safe learning": The press release signed by Cassandra Twum Ampofo, Head, Public Relations Unit indicated.
The school reopening dates announced by the President of Ghana, H.E Nana Akuffo Addo during his 21st address to the nation has been greeted with excitement among educators and students.
The Ghana Medical Association in its latest press release has called on school managers to ensure School Reopening comes with strict adherence to COVID-19 protocols.
This call comes after the sharp rise in active COVID-19 cases. It added that the total disregard for and the non-compliance with the safety protocols across the country is worrying.
Whiles the government has resolved to provide the needed resources to schools, parents should also ensure their wards in Pre-tertiary schools are provided with nose masks, hand sanitizers, and other essentials for their safety.
School children must be educated on the need to observe COVID-19 safety protocols.
READ: Fix Our Dilapidated Structures:  Public schools in deprived communities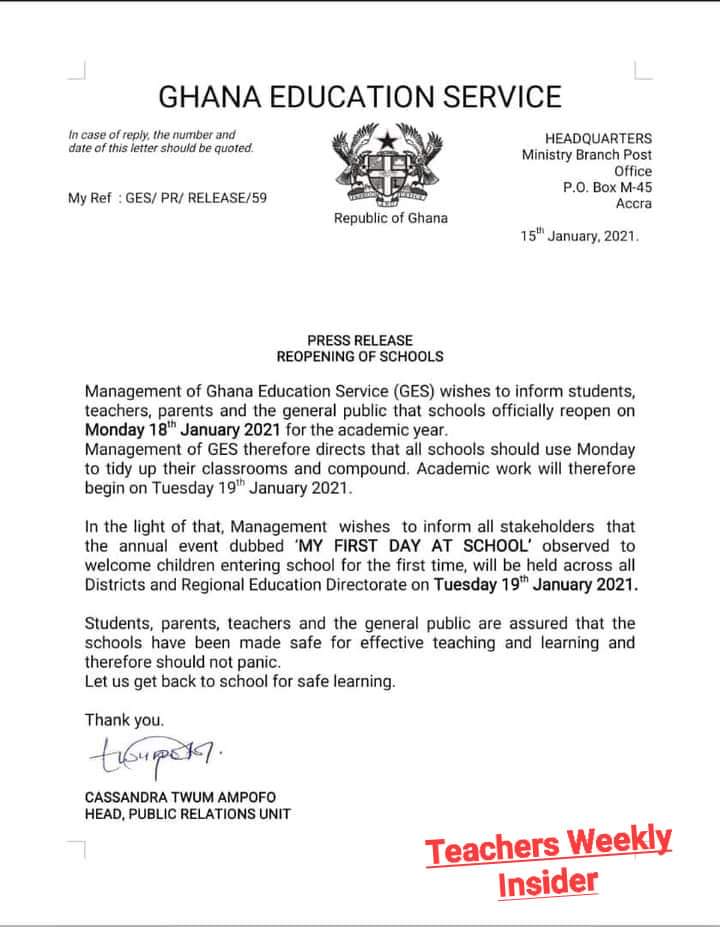 Source: Ghanaeducation.org